The Last Thing the Revered Mahatma Gandhi Ever Wrote Known to Be in Private Hands
He was assassinated on January 30, 1948; this manuscript sheet was for his prayer speech of January 22, 1948
Currency:
USD
GBP
JPY
EUR
CNY
This currency selector is for viewing only.
The Raab Collection only accepts USD payments at checkout.
Exchange rates are updated hourly. Rates may be inaccurate.
This fragment states that "leaders doing the [right thing] was proving infectious"
Mahatma Gandhi was assassinated on January 30, 1948. Gandhi had been an astute political campaigner who fought for and won Indian independence from British rule, and championed the rights of the Indian poor. His example of non-violent protest set the...
This fragment states that "leaders doing the [right thing] was proving infectious"
Mahatma Gandhi was assassinated on January 30, 1948. Gandhi had been an astute political campaigner who fought for and won Indian independence from British rule, and championed the rights of the Indian poor. His example of non-violent protest set the example for Martin Luther King and others, and is still revered throughout the world today.
Gandhi's biography states: "He stopped at the thresholds of the huts of the thousands of dispossessed, dressed like one of their own. He spoke to them in their own language. Here was living truth at last, and not only quotations from books, for this reason the Mahatma [Great Soul], the name given to him by the people of India, is his real name. Who else has felt like him that all Indians are his own flesh and blood? When love came to the door of India, that door was opened wide. At Gandhi's call India blossomed forth to new greatness, just as once before, in earlier times, when Buddha proclaimed the truth of fellow-feeling and compassion among all living creatures."
In early September 1947, Gandhi moved to Delhi to help stem the rioting there and in the neighboring province of East Punjab. The rioting had come in the wake of the British partition of India into a largely Hindu India and largely Muslim Pakistan. The creation of the new independent dominions of India and Pakistan involved large, chaotic transfers of population between them, and there was violence and uprooted populations. Some Hindus saw the sufferings of Hindu refugees escaping from Pakistan as unbearable.
Meanwhile, by late 1947, India and Pakistan were already at war over the province of Kashmir. The government of India, led by Congress Party leaders, had withheld a payment due to Pakistan in January 1948 because it did not want to finance Pakistan, which was at war with India at that time. Gandhi opposed the decision to freeze the payment as inconsistent with agreement, and on January 13, 1948, went on a fast-unto-death to pressure the Indian government to release the payment to Pakistan. The Indian government, yielding to Gandhi, reversed this decision, and Hindu extremists interpreted this sequence of events to be a case of Gandhi controlling power and hurting India and Hindus. The very day Gandhi went on his hunger strike the plot to assassinate him began to be planned. The hunger strike ended January 18.
On January 20, 1948, two days after the termination of the fast, an attempt was made to throw a bomb at Gandhi as he was addressing a prayer meeting in the Birla House compound. The bomb exploded some fifty yards away from where he was sitting, but nobody was injured. A Hindu youth, described as a refugee from the West Punjab, was arrested and an unexploded hand-grenade was recovered from his pocket. The explosion was loud enough to be heard at a far-off distance. Gandhi remained unruffled. When Gandhi spoke, he referred to his statement that he might now proceed to visit Pakistan. But that, he explained, could only happen, if the Pakistan Government were convinced that he was a man of peace and friend of the Muslims and would, therefore, like him to go to Pakistan. He would, however, in any case, have to wait, till the doctors declared him fit to undertake the journey. This willingness to go to Pakistan further angered Hindu extremists. He also stated, referring to the sufferings of the Hindu and the Sikh refugees, that Pandit Jawaharlal Nehru was doing all that was possible in order to bring them speedy relief.
Gandhi's biography offers this description: "Speaking after prayers on January 21, Gandhi referred to the previous day's bomb explosion. He had been receiving anxious inquiries and praise for being unruffled during the accident. He thought that it was military practice and, therefore, nothing to worry about. He had not realized, till after the prayers, that it was a bomb explosion and that the bomb was meant against him. God only knew how he would have behaved in front of a bomb aimed at him and exploding. Therefore, he deserved no praise….What he wanted to convey was that no one should look down upon the misguided young man who had thrown the bomb. He probably looked upon the speaker [Gandhi] as an enemy of Hinduism. After all, had not the Gita said that whenever there was an evil-minded person damaging religion, God sent some one to put an end to his life?
"The youth should realize that those who differed from him were not necessarily evil…Continuing he said, that some Sikh friends came and said that he should not think that the Sikhs had anything to do with the bomb explosion. He knew that the youth was not a Sikh. But what did it matter, whether he was a Sikh or a Hindu or a Muslim? He wished well to all perpetrators. He had told the Inspector-General of Police also, not to harass the youth in any way. They should try to win him over and convert him to right thinking and doing. He hoped that the youth as well as his guides would realize their error. For, it was a wrong done to Hinduism and to the country. He expected the audience to go on with the prayers, in spite of bomb explosions or a shower of bullets."
The next day, January 22, was the first time after the fast that Gandhi was able to walk to the prayer ground. He said in his prayer speech that he was slowly gaining strength and, God willing, he hoped to return to his normal health before long. Again quoting from his biography, Gandhi's remarks were in part related to government leaders setting the right example. The fragment offered here is highlighted in bold.
Autograph manuscript fragment, written on scrap paper, being edits Gandhi was making for publication of his January 22 speech. It is undated but it is after January 22, so in the last 8 days of his life. Gandhi said that a friend had written to him that although Pandit Nehru and other ministers and the officials might lodge some refugees in their houses, that would not even touch the fringe of the refugee problem. The speaker agreed that the ministers and the officials together could not house more than a few thousands at the most. The virtue of the offer consisted not in the "number so to be accommodated, but in the fact that the example of the leaders doing the act was proving infectious." All civilized people, Gandhi went on to say, would appreciate and value such acts of leaders of men.
8 days later, he was killed by an assassin.
Our research cannot find any example in Gandhi's hand, whether letter, manuscript, or document, dated after this one having reached the public market. This may well be the last thing Gandhi ever wrote in private hands.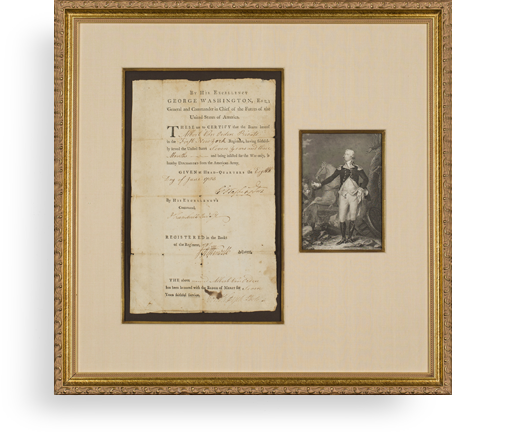 Frame, Display, Preserve
Each frame is custom constructed, using only proper museum archival materials. This includes:The finest frames, tailored to match the document you have chosen. These can period style, antiqued, gilded, wood, etc. Fabric mats, including silk and satin, as well as museum mat board with hand painted bevels. Attachment of the document to the matting to ensure its protection. This "hinging" is done according to archival standards. Protective "glass," or Tru Vue Optium Acrylic glazing, which is shatter resistant, 99% UV protective, and anti-reflective. You benefit from our decades of experience in designing and creating beautiful, compelling, and protective framed historical documents.
Learn more about our Framing Services