Sold – Original "Wanted" Notice For Conspirator Lewis Powell, Attemped Assassin of William Seward
Dated April 15, 1865.
In the spring of 1865, John Wilkes Booth, actor and zealous Confederate sympathizer, wrote in his journal that he saw his cause as "almost lost" and determined to do something "great" to try and salvage it. He put together a plan to create chaos and overthrow the Federal government by assassinating President...
In the spring of 1865, John Wilkes Booth, actor and zealous Confederate sympathizer, wrote in his journal that he saw his cause as "almost lost" and determined to do something "great" to try and salvage it. He put together a plan to create chaos and overthrow the Federal government by assassinating President Lincoln, Secretary of State William Seward, and Vice President Andrew Johnson, and gathered around him conspirators to carry it out. He would shoot the President, Lewis Powell would kill Seward and Johnson's would-be assassin would be George Atzerodt.
On Good Friday, April 14, 1865, at approximately 10:00 p.m. Booth went to Ford's Theater where he knew that President Lincoln would be attending a performance of Our American Cousin with his wife and two guests. He shot Lincoln who died the following day – April 15, 1865 – at 7:22 a.m., in the house of William Petersen. Seward was bedridden due to a carriage accident, so Powell went to his home in Lafayette Park in Washington, not too far from the White House. He was carrying an 1858 Whitney revolver which was a large and heavy gun, and additionally he was armed with a silver-mounted bowie knife. Powell knocked at the front door of the house a little after 10:00 p.m. and William Bell, Seward's butler, answered the door. Powell told Bell that he had medicine for Seward that he was to personally deliver. He was let in and Powell made his way up the stairs to Seward's third floor bedroom. At the top of the staircase, he was approached by Seward's son and Assistant Secretary of State Frederick W. Seward. Powell told Frederick the same story that he had told Bell at the front door. Seward was suspicious of the intruder and told Powell that his father was asleep. Powell started down the stairs when suddenly he jolted around and drew his revolver, placing it upon Frederick's forehead. He pulled the trigger, but the gun misfired. Panicking, he then smashed the gun over Frederick's head continuously until Frederick collapsed. Fanny Seward, wondering what all the noise was, found her brother bloody and unconscious on the floor and Powell running towards her. Powell ran to Seward's bed and stabbed him continuously in the face and neck. He missed the first time he swung his knife down, but the third blow sliced open Seward's cheek. The metal neck brace Seward was wearing was the only thing that prevented the blade from penetrating his jugular. Secretary Seward rolled off the bed and onto the floor by the force of the blows to a spot where he could not be reached by Powell. Meanwhile, bodyguards had arrived on the scene so Powell ran downstairs and headed to the front door. Before running outside, he exclaimed, "I'm mad! I'm mad!" and untied his horse from the tree and rode away. Atzerodt never did actually attempt to take the life of Vice President Johnson.
The military was ordered to pursue the assassination conspirators. Initially unsure of Powell's whereabouts or the direction of his escape, acting U.S. Provost Marshal General Noah L. Jeffries sent arrest-on-sight telegrams to nearby cities both north and south of Washington in an effort to widen the federal dragnet. Philadelphia was one of those cities and Major Julius Hayden was provost marshal in that city. The description of Powell that Jeffries sent was related by William Bell, Seward's butler, who had answered the door of the Seward home that fateful night.
Letter Signed, 2 pages, Washington, April 15, 1865, an official copy of a telegraph dispatch from Jeffries in Washington to Hayden in Philadelphia, ordering his office to arrest Powell "if possible." "The following is a description of the assassin of the Honor W. H. Seward, Sec. of State and the Honor Frederick Seward, Asst. Secy. You will use every exertion in your power and call to your aid the entire force under your control to secure the arrest of the assassin. Height Six and One Twelfth feet (6 1/12) Hair black, thick, full, and straight, no beard, no appearance of beard, cheeks red, the jaws, face moderately full. twenty-two (22) or twenty-three (23) years of age. Eyes color not known, Large eyes not prominent, brows not heavy but dark face not large but rather round, complexion rather swarthy, nose straight and wellformed, medium sized mought, small lips, thin upper lip, protruded when he talked, chin pointed and prominent, head of medium size, neck short and of medium length, Hands soft small and fingers tapering, showed no signs of hard labor, Broad shouldered, Taper Waist, straight figure, strong looking man, manner gentlemanly but vulgar. Double breasted, collar, mixed of pink and gray spots, small was a sack over coat, pockets in side and one on the breast, with lappells on flaps, pants black common stuff, new heavy boots, voice small thin and inclined to tenor." When this was received as a telegram, Hayden ordered a few copies made to circulate to his district officers. These were prepared by a clerk and thusly signed in Hayden's name. Then they were certified as official by Hayden's aide Captain Jacob S. Stretch, whose actual signature appears on this letter.
Powell was arrested on April 17 after he showed up at Mary Surratt's Washington boardinghouse with a pick-axe while she was being questioned by a party of military investigators. He had never left the area. He was hanged with his co-conspirators on July 7, 1865.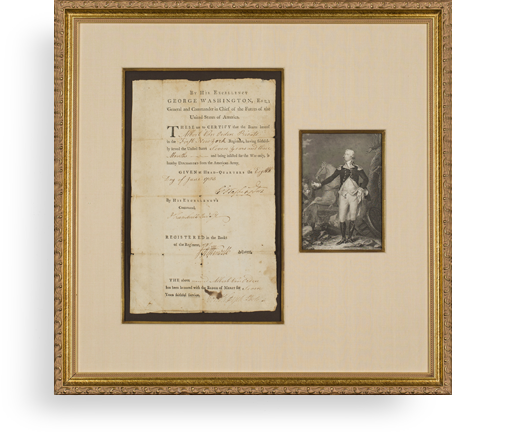 Frame, Display, Preserve
Each frame is custom constructed, using only proper museum archival materials. This includes:The finest frames, tailored to match the document you have chosen. These can period style, antiqued, gilded, wood, etc. Fabric mats, including silk and satin, as well as museum mat board with hand painted bevels. Attachment of the document to the matting to ensure its protection. This "hinging" is done according to archival standards. Protective "glass," or Tru Vue Optium Acrylic glazing, which is shatter resistant, 99% UV protective, and anti-reflective. You benefit from our decades of experience in designing and creating beautiful, compelling, and protective framed historical documents.
Learn more about our Framing Services