Susan B. Anthony Recalls the School Run by Mary Perkins, Who Did So Much to Foster Her Belief in Women's Equality, As Where She and Her Sisters "received the best of our education"
A warm personal letter with revealing insights, reminiscing about her childhood, father, brother, sisters, education, and life back then.
This remarkable letter was acquired by us directly from the descendants of the recipient and is offered for sale here for the first time.
Susan B. Anthony's father Daniel built a cotton mill in Adams, Massachusetts, and made it into a success. Teenage girls worked at the mill, and half of them...
This remarkable letter was acquired by us directly from the descendants of the recipient and is offered for sale here for the first time.
Susan B. Anthony's father Daniel built a cotton mill in Adams, Massachusetts, and made it into a success. Teenage girls worked at the mill, and half of them boarded in the Anthony house, which was bustling with activity. "An almost ceaseless round of work – sewing, cleaning, hauling water, preparing three meals a day for as many as sixteen people, and washing up again once they had finished eating," as biographers Geoffrey Ward and Ken Burns described the Anthony house in the book Women of Achievement: Susan B. Anthony. In 1826 Daniel was offered an opportunity to partner in running similar mills in Battenville, NY, and he and his wife Lucy packed up their four children and moved to Battenville. Susan was 6 years old at the time.
The family initially stayed with Daniel's business partner, Judge John Mc Lean, but that changed. "Business boomed, and in 1832-33 Anthony built a late Federal-style brick house for his family…in Battenville," according to historian Sandra McClellan. The house was very large – 15 rooms, with space for a store and schoolroom. Susan had just turned thirteen when they moved in, and lived there until the time she was 19 years old, when the Anthonys moved to Center Falls. So Battenville was where she grew up.
Susan at first attended Battenville's one-room public schoolhouse. At this school, the boys sat up front and the girls in back. The Anthony children were removed from this school when Susan complained that her teacher (a man) was refusing to teach her long division because she was a girl. Her father taught the children himself in a school room in the Anthony home; in New York in this era, it was not unusual to set up group schools in rooms in private homes. Then Daniel hired Mary Perkins to handle the teaching, which was somewhat unorthodox (because Mary was a woman in an era of male teachers), and was also a momentous moment in Susan's life and in the life of the women's equality movement. For Perkins conveyed a progressive image of womanhood to Anthony, fostering Susan's belief in women's equality. Perkins also employed teaching methods that were innovative and advanced at the time, including teaching the boys and girls as equals, reading illustrated books, reciting poetry, and partaking in physical education, all of which further benefited Susan and the other students. According to historian Maryann Weidt, "Susan loved Mary Perkins".
David and Phoebe Walsh lived in Battenville, and founded the Methodist Episcopal Church there. Their son John D. Walsh became a minister, and was author of book, The Educational Work of the Methodist Episcopal Church in the South. His older sisters were the same age as Susan, and were her playmates. Indeed, Susan remembered the Walsh family "very well", to use her words.
This well known letter as published by Rev. Walsh, and he kept the original, which he passed down to his descendants
Typed letter signed, on her National American Woman Suffrage Association letterhead, Rochester, NY, January 9, 1906, to Rev. J.D. Walsh. "I was delighted to get your letter of January 2nd. The article from the Cincinnati Advocate gives you a fine look. I had forgotten about meeting you at Lexington in January 1895. That's 11 years ago. Time flies with great rapidity. I note all you say of the effect of reading my Life and Work. I hope your son Robert will find it equally interesting. I have found a photograph of the brick house which my father built in 1832-33 and which we moved into for Christmas 1833. It is just the same as when built, excepting that the little piazza at the south end has been added since, but I presume that to your memory it looks very natural. The front door is the same, I think, that was put in by my father. My brother Merritt and I are sitting on the steps and brother Daniel and sister Mary are nearby under the parlor windows. The lady who sits often there alone did not expect to go into the picture but they took her in spite of it.
"The old school room is over the woodshed, and I am sorry that the view of it is obscured by the clothes hanging out on the line. I didn't notice them there at the time the picture was taken. There is the door where we went up stairs to get into the schoolroom. The right hand window is where there used to be a doctor's office, and we used to play in the garrett over the schoolroom. It was a splendid place for fun. This is where my sister Guelma McLean, sister Hannah Mosher and brother Daniel and I, and sister Mary, received the best of our education. I should like to go about Battenville with you or someone who remembers all the incidents of those old times. The picture of the house that is in my book I had taken in the fall, when the leaves were gone from the trees, so the house shows plainer, but I have not a photograph of that. I hope you can get a print with Mrs. Sewell left out. I shall be very glad to receive a paper which has your article in. I am sorry that we have not a photograph of the old factory and store. I have one of the old house in which we lived before my father built the brick house, but then this is enough to show the handiwork of almost a century ago. I went through it last spring, and the walls and all were just as solid as at the beginning. It was thoroughly well-built. I think you did not say that you had received the four volumes of the History of Woman Suffrage, which I sent you after the receipt of your letter of December 15th." She then adds in her own hand, "The slate roof – the only one in Battenville at that time – and the big cement cistern under the kitchen – the water in which was as clear and fine as any well water. We drank it and used it for cooking and all purposes. It was splendid to taste it in 1897, and it was just as fine then as ever. And that roof is now just as perfect as the day it was put on 73 years ago."
This is an extraordinary personal letter filled with her family and life reminiscences and revealing insights, and is a great rarity besides. A search of public sale records going back 40 years fails to turn up even one letter of Susan B. Anthony relating to any member of her family or her time in Battenville. It was acquired directly from the descendants of the recipient and is offered for sale here for the first time.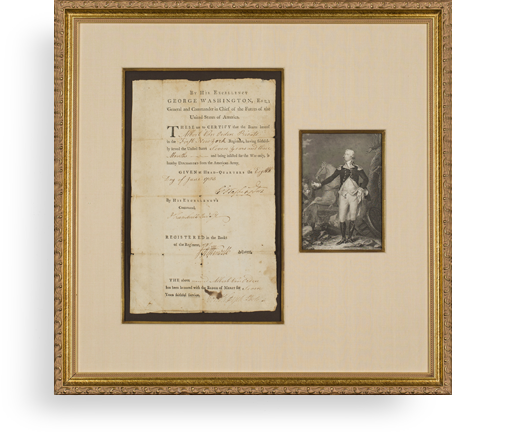 Frame, Display, Preserve
Each frame is custom constructed, using only proper museum archival materials. This includes:The finest frames, tailored to match the document you have chosen. These can period style, antiqued, gilded, wood, etc. Fabric mats, including silk and satin, as well as museum mat board with hand painted bevels. Attachment of the document to the matting to ensure its protection. This "hinging" is done according to archival standards. Protective "glass," or Tru Vue Optium Acrylic glazing, which is shatter resistant, 99% UV protective, and anti-reflective. You benefit from our decades of experience in designing and creating beautiful, compelling, and protective framed historical documents.
Learn more about our Framing Services