Rare Book from the Library of the New World Missionary School in Portugal, Signed by Its Rector and Educator to these Explorers, Just Decades After Columbus Crossed the Atlantic
A remarkable memento of the education of a missionary class that would have included men destined for the New World, Africa, and Asia during the height of Portugal's influence
Currency:
USD
GBP
JPY
EUR
CNY
This currency selector is for viewing only.
The Raab Collection only accepts USD payments at checkout.
Exchange rates are updated hourly. Rates may be inaccurate.
This was the same university where Francisco Suarez would, a generation later, study and teach; he would have had access to and may have used this very book
Coimbra was the jumping off for many of the men who went as missionaries around the expanding globe
We do not recall...
This was the same university where Francisco Suarez would, a generation later, study and teach; he would have had access to and may have used this very book

Coimbra was the jumping off for many of the men who went as missionaries around the expanding globe

We do not recall having seen a book from such a library before on the market; From an American collection
Under the terms of the Treaty of Tordesillas, signed in 1494 between the Spanish and Portuguese crowns, the 'new world' was divided between the two of them. Thus, Portugal had the right of exploration to the east of Africa while Spanish vessels journeyed west across the Atlantic. Until the rise of Dutch and British East India trading companies and the defeat of the Spanish Armada in the latter part of the sixteenth century, Portuguese and Spanish traders had a monopoly over the maritime routes into East Asia and the riches that could be bought there.
During this time, Portugal established its maritime empire through the use of fortresses built at strategic points along the coastlines of Africa, India and then wherever it could gain a foothold in Southeast Asia. This saw the rise in importance of such ports as Mozambique, Goa and Macau. Traders and missionaries who sailed out to Asia had to use Portuguese vessels and travel as part of the East Indies treasure flotilla. This meant both waiting for the creation of these fleets and for the favorable sailing season to begin.
During this period of waiting, Jesuits who were to work as missionaries throughout Asia – from Goa to Nagasaki and all places in-between – would continue their studies at the center of learning at Coimbra, where St. Jerome's College and College of St. John the Evangelist were founded within a year of each other in the 1540s to service the influx of Jesuit missionaries. Many of them had already begun their studies in other parts of Europe, but now, in order not to miss the departure of the fleet they massed at the College of Coimbra and awaited their order to depart. They made good use of their time, engaged in the essential studies that would enable them to be both missionaries and men of learning. The purpose of the new College of Jesus would be precisely to prepare Jesuits for their missions in the overseas possessions of the Portuguese Crown, in Asia, Africa, and South America, whilst installed next to a renowned University and to the best teachers in Theology, Philosophy and Latin.
The rector of the college there was Diogo da Ressurreicao. His school would soon become famous as young Jesuits from Portugal and from all over Europe were sent to Coimbra to learn and prepare for their missions.
Book from the library of the New World missionary preparatory college at Coimbra, Portugal, Diogo's copy, signed by him as belonging at various times at St. Jerome and St. John.
Isagogae Ad Sacras Literas, Liber Unicus, 1536. First edition of a work republished in 1540 and in 1542. Pagnini's voluminous exegetical work on the mystical meaning of the Scriptures, arranged in the alphabetical order of the words and phrases discussed. Pagnino's dedicatory preface is addressed to Cardinal Jean Du Bellay, which is followed by Symphorien Champier's letter to François de Tournon, who was at the time Archbishop of Bourges.
Signed by him as rector of St. Jerome. A later hand, perhaps a generation, notes that the book has become part of the library of St. John, still in Coimbra.
Size of binding: 10 in. x 14 1/2 in; 3 in. thick. [16], [2], 818 pp. Contemporary binding in full calf with blind tooled stamp design on cover; remains of the clasp. The spine has been restored with an early leather title label laid down. Brass end-pieces on the corners of the covers. The front and rear inner covers show hand-written manuscript pages laid-down. Page 523 appears before p. 521 Manuscript annotations on some pp. Some age-related wear to spine and spine ends; the top edge of the book shows a damp stain. The title page shows an early ink inscription. A few pages show tanning. The book, in Latin, is an Introduction to the study of Sacred Scripture by Santis Pagnini. It begins with a preface dedicated to Cardinal Jean Du Bellay, and this is followed by Symphorien Champier's letter to Francois de Tournon, who was then Archbishop of Bourges. Pagnini was an Italian priest of the Dominican Order (O.P., Order of Preachers). He wrote and resided in Lyon, France. The book weighs 9.5 lbs.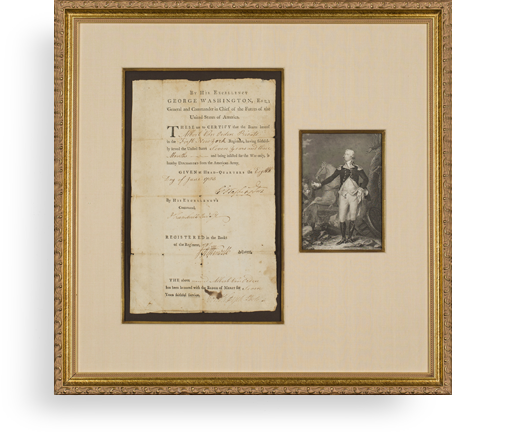 Frame, Display, Preserve
Each frame is custom constructed, using only proper museum archival materials. This includes:The finest frames, tailored to match the document you have chosen. These can period style, antiqued, gilded, wood, etc. Fabric mats, including silk and satin, as well as museum mat board with hand painted bevels. Attachment of the document to the matting to ensure its protection. This "hinging" is done according to archival standards. Protective "glass," or Tru Vue Optium Acrylic glazing, which is shatter resistant, 99% UV protective, and anti-reflective. You benefit from our decades of experience in designing and creating beautiful, compelling, and protective framed historical documents.
Learn more about our Framing Services