"God Almighty Be Praised": The Same Day Congress Commissions the Official Declaration of Independence, John Hancock Praises God for One of the Colonists First Great Victories, the Siege of Charleston, and References George Washington
He brims with the enthusiasm: "I have sent the Gen'l the whole of the most fortunate defeat of the troops and ships at So. Carolina. God Almighty be praised, I feel grateful."
An incredibly rare if not unique letter of a major Founding Father praising God for a victory
We are aware of only one other Hancock ALS or ANS from the magical month of July 1776 having been offered for sale in the past 40 years, and none from this important date
...
An incredibly rare if not unique letter of a major Founding Father praising God for a victory

We are aware of only one other Hancock ALS or ANS from the magical month of July 1776 having been offered for sale in the past 40 years, and none from this important date

Hancock's text accompanies what is a very important letter of General Charles Lee announcing his greatest triumph, which in itself is a rarity
Responding to the outbreak of the Revolution, on June 14, 1775, the Continental Congress named George Washington commander-in-chief of the new Continental Army. It also appointed two major generals to serve under Washington: one was Charles Lee, an experienced English officer who had taken up residence in Virginia, and the other was Artemas Ward, a Massachusetts officer who had given the order for American forces to fortify Bunker Hill. Washington and Lee quickly set out for Cambridge, Massachusetts, to take command of the American troops around Boston that were besieging British forces in that city.
Washington and Lee arrived in Cambridge on July 2, 1775. On their way there they were honored in New York on June 25. At New Haven, where they spent the night of June 28, they were escorted on their way out of town early the next morning "by great Numbers of the Inhabitants" and three military companies, including one composed of Yale students. On June 29 Washington and Lee lodged at Wethersfield, Connecticut, and the next day they were greeted at Springfield, Mass., by Dr. Benjamin Church and Moses Gill, who were sent by the Massachusetts provincial congress to receive him and Charles Lee "with every mark of respect" and "to provide proper escorts for them". Towns in Massachusetts sent escorts along the way. On July 1 a number of gentlemen from Springfield, Massachusetts, accompanied the generals to Brookfield and another group conducted them to Marlborough. A troop of horsemen from Marlborough provided an escort on July 2 for the last leg of the journey to Cambridge.
Lee was widely respected in the colonies for his military reputation, and his military advice and direction were sought after in the first years of the conflict. After serving on the siege lines outside Boston he aided in the development of the defenses of Newport, Rhode Island. He began the defenses of New York, and was reassigned to the southern department where his most significant contribution came in the defense of Charleston, South Carolina against the British assault in 1776.
William Palfrey, a Boston merchant and business associate of John Hancock, was one of the group of men who greeted Washington and Lee on their way to Cambridge. Palfrey was made made an aide-de-camp to Lee in July 1775, and was promoted to lieutenant colonel and made an aide-de-camp to Washington on March 6, 1776. On April 27, 1776, he was chosen to succeed James Warren as Paymaster General of the Continental Army, a post he held until his appointment as United States consul to France in November 1780.
The British organized their expedition against the Carolinas in early 1776, hoping to knock the southern colonies out of the war. General Henry Clinton and Admiral Sir Peter Parker decided to act against Charleston with significant land and sea forces. Arriving there in early June, British troops were landed near Sullivan's Island where Colonel William Moultrie commanded a partly constructed fort, in preparation for a naval bombardment and land assault. General Lee, who had overall command, provided supervision and strategy. The British land attack took place on June 28, 1776, and was frustrated when the channel was found to be too deep to wade, and the American defenses prevented an amphibious landing. The naval bombardment had little effect due to the sandy soil and the spongy nature of the fort's log construction. Careful fire by the defenders wrought significant damage on the British fleet, which withdrew after a day's bombardment. The British went back to New York, and did not return to South Carolina until 1780.
The Battle of Sullivan's Island was a decisive American victory, and it revived the American spirit. It was also the first time during the Revolution that U.S. troops successfully defended against a British sea and land invasion. The pride of victory that resulted was initiative for more Americans to support the imminent break from Great Britain, and was especially savored because the victory was achieved against strong odds.
Lee conveyed news of the American victory at Sullivan's Island to Congress in a letter to John Hancock of July 2, 1776. A day later Lee wrote Palfrey, who was in Philadelphia, with further confirmation of the victory; these two letters from Lee to Palfrey likely arrived together on July 19. We know this receipt date because Hancock wrote Washington that day saying he had just received word of the victory "this moment" from Lee and enclosing a copy of the letter.
On June 7, 1776, a proposal to declare the American colonies an independent nation was submitted to Congress by Richard Henry Lee of Virginia. Congress responded by appointing a committee to draft the Declaration of Independence. The committee consisted of Benjamin Franklin, Thomas Jefferson, John Adams, Robert R. Livingston, and Roger Sherman. The final document it produced was drafted by Jefferson and contained important revisions suggested by Franklin. Congress approved American independence on July 2, 1776, and the Declaration of Independence was agreed to two days later on July 4. John Hancock, President of Congress, was the only person to sign it on July 4.
The best-known version of the Declaration is not the July 4 copy but a signed copy that is displayed at the National Archives in Washington, D.C., and which is popularly regarded as the official document. This engrossed copy was ordered by Congress on July 19 and signed primarily on August 2.
So when Hancock received Lee's letter on July 19 he was brimming with enthusiasm over the Declaration of Independence and the great victory that had stymied the British in the South, among the first major American victory in the war.
Hancock's father and grandfather were ministers, his grandfather being particularly prominent.  Hancock contributed a considerable amount of money to the construction of the new Brattle Street Church.
This is Lee's original letter to Palfrey. Autograph letter signed, Charlestown [Charleston, SC], July 3, 1776, filled with information, and some humor as well. "The old observation that money spoileth the wit is not exemplify'd in you. On the contrary, you have grown more since you were Master of four times five and twenty Dollars per month. God inspire the Congress with the resolution of still increasing your store, that you may still become a more entertaining Correspondent. We often long to laugh with the gallant Palfrey – but you could only afford us half the Amusement you did formerly. You must remember that not only the quantity of good things which came out of your mouth but the quantity which went into your mouth furnish'd us with matter of wonder and pleasure – and conversion. But, alas, were you with us now…you would be totally eclipsed in one of these branches.
"We have a little Secretary (don't be shocked) that could set up you and your whole Family. We have a considerable wager now depending, Spada is to fast thirty six hours and the Secretary twelve. They are then to start together on a course of roast Beef. I have laid on Spada, but the majority of those who are acquainted with the abilities of these two gentlemen are clear that I shall lose. You will hear of a snub We have given Sir P. Parker. I have sent the General [Washington] a relation of it. I assure you it was hot business. My two Aide de Camps Byrd and Morris stand fire divinely. Upon my Soul they are spirited lads. I must now entreat, my Mr. Paymaster that you will assist Capt. [James] Grier of Thompson's [Rifle] Battalion in unravelling accounts of the men of the different Regiments who composed my Bodyguards, as the great Mr. Ballard used to call them. If you don't assist I must [ask] Whitcombe. Adieu, mon cher Ami. My love to [Washington aide-de-camp Stephen] Moylen and [Col. Jonathan] Brewer who I hope informs himself of the state of my mare. When she is able to travel let her be brought to Philadelphia. Where is my dog Cast and little sticky, and don't let 'em be lost." The integral address leaf on the verso in Lee's hand, addressing Palfrey as "Paymaster of the Continent", is still present. Francis Otway Byrd and Lewis Morris, Jr. were Lee's aides-de-camp. Morris's father Lewis signed the Declaration of Independence. Colonels Asa Whitcombe was a regimental commander.
Hancock received this first, and sending it to Palfrey, wrote this Autograph note signed, on the back of Lee's letter itself: "I have not time to write you. I have sent the Gen'l the whole of the most fortunate defeat of the troops and ships at So. Carolina. God Almighty be praised, I feel grateful. Adieu, yours, J. Hancock." Here Hancock humbly thanks God for the crucial victory, even as he contemplates its importance to the new Declaration of Independence. He also specifically references the letter he wrote to the General – Washington – on July 19, thus apparently dating this notation to that day or immediately thereafter.
One looks in vain for any letter of one of the foremost Founding Fathers praising God for blessings or victories having reached the marketplace. A search of public sale records going back 40 years shows none for Washington, Adams, Jefferson, or Franklin, nor any others of Hancock. This is certainly the first time we have ever seen one. It is thus of great importance. Moreover, we are aware of only one other Hancock ALS or ANS from the magical month of July 1776 having been offered for sale in that same 40 years, and we carried that as well.
Hancock's text overshadows what is a very important letter of Lee announcing his greatest triumph, which in itself is a rarity.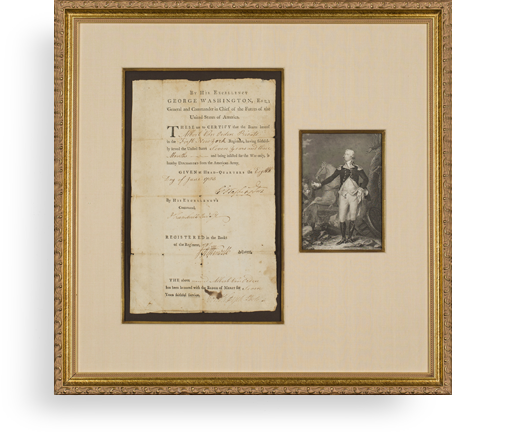 Frame, Display, Preserve
Each frame is custom constructed, using only proper museum archival materials. This includes:The finest frames, tailored to match the document you have chosen. These can period style, antiqued, gilded, wood, etc. Fabric mats, including silk and satin, as well as museum mat board with hand painted bevels. Attachment of the document to the matting to ensure its protection. This "hinging" is done according to archival standards. Protective "glass," or Tru Vue Optium Acrylic glazing, which is shatter resistant, 99% UV protective, and anti-reflective. You benefit from our decades of experience in designing and creating beautiful, compelling, and protective framed historical documents.
Learn more about our Framing Services