The Unpublished Charleston Correspondence of One of the Earliest Ministers in the Christ's Church Parish, With Descriptions of the Environs, His Practice as Minister, and Descriptions of the Dangers Faced
He died in the Revolutionary War: Included is his farewell to the Congregation, detailing the state of affairs of the war in Charleston and Georgia to the south
Included is his ordination document signed by, among others, prominent minister William Tennent
Note on provenance: These letters were acquired by our firm directly from the heirs of Thomas Allen and have never before been seen by the public or offered for sale.
Moses Allen was born in...
Included is his ordination document signed by, among others, prominent minister William Tennent
Note on provenance: These letters were acquired by our firm directly from the heirs of Thomas Allen and have never before been seen by the public or offered for sale.
Moses Allen was born in 1748, the son of Joseph Allen and Elizabeth Parsons.  His neighbor was Jonathan Edwards, the famed revival preacher.  Joseph was one of the few to come to Edwards defense.  He was Presbyterian by upbringing and was educated at the college in New Jersey [Princeton College], where he graduated in 1772.  At the college, Allen joined the Well-Meaning Club, one of the two rival literary clubs.  After the banning of these clubs, the Well-Meaners, led by Allen, formed the Cliosophic Society.  Allen was a classmate of James Madison, who was in a rival club.  In Madison's "Clio Proclamation," he identified Allen as the "founder of the crew."  Allen was also a correspondent with Aaron Burr.  From there, he became the principal at an elementary school in Lower Freehold, NJ, before his ordination, at which point he was sent south to South Carolina, near Charleston.  The patrons of this school included William Tennent, also a trustee of the college.  In May 1773, Allen went to Philadelphia to apply to the Presbytery and, in spite of the objection of Madison and others, received his license.  His ordination took place at Christ's Church Parish on March 16, 1775, by the Rev. Zubly, Mr. Edmonds, and William Tennent.   Allen was one of the earliest clergyman in Wappetaw, Christ's Church Parish.  He was incarcerated on a British ship for Patriot activities during the American Revolution and died trying to escape.
Moses's older brother was Thomas Allen, who graduated from Harvard College in 1762, and in 1764 became the first settled minister in Pittsfield, MA where he was ordained. Twice he served as a volunteer chaplain during the Revolutionary War and fought as a combatant in the Battle of Bennington, in which battle he earned the name the "fighting parson".
Moses Gets the Call to Preach in Christ Church Parish and Describes the Surroundings
Autograph letter signed, Charleston, April 20, 1774. Moses to his parents.
"I have a Call in my hands to settle in the great work of the gospel ministry, in a place called Christ Church Parish, a neck of land separated from Charleston by a ferry about four miles ride. It is a healthy place being almost surrounded by saltwater, tho its situation is low; The meeting house stand just 15 miles from Charleston upon this Peninsula, which is thirty miles in length & in the widest place it is about six broad. Should the tide rise feet higher than spring tide, it would float the whole parish.
"The people are vastly agreeable & unanimous to a man, they have been well instructed in the main doctrines of Christianity by one Mr. Martin in whose acquaintance I am very happy. They engage me 100 Sterling per year, the use of parsonage worth thousand sterling, & five Negroes & other perquisites thought to be as good as forty pounds sterling per annum.
"The call for ministers is very great & my friends Mr. Tennent & Mr. Thomson, with many other good advisors press very hard, for my accepting the call immediately…"
A vivid description of religious life in Charleston
Autograph letter signed, Charleston, April 20 1774. Moses to Thomas.
"I have only time to say, that I am at a loss what to do; Should I accept the Call mentioned in the letter to my Father, My agreeable connections at the Northward must be brook in a great measure; nor can I have half the comfort of relations, that I might have should I settle in N England.  However, I am in good spirits & am as happy in my connections here as I could expect.
"We attend school at six in the morning & dismiss at six in the evening & saturday afternoon.  I go to Christ Church Parish, & preach Sunday…. Ihave no help but what I get by changing with Mr. Tennent. I have no time to study. It is too much for this hot climate. You may Judge of the heat by the forwardness of the spring…. Will you come & preach my ordination sermon? If you send your Letters to Mr. Noel I shall have them as soon as when I lived in the Jersies…. Desire Brother Joseph to write am greatly obliged to him for the visit he made me.  I have never heard whither he had the smallpox or not.  I would write, but my correspondence are so many, that I shall be greatly blamed for not writing to the Ministers in the Jersys from whom I took license. It is high time I was in the school."
Upon his brother John's death, William Tennent accepted the call to succeed him as pastor of the Old Tennent Church. Students at the College of New Jersey, Princeton, often walked twenty miles to hear him preach. As a trustee of the college, William Tennent, Jr., always kept a watchful eye over the school's spiritual well-being.
The Wando Neck, SC ordination of Moses Allen
Document signed, Wando Neck, March 10, 1775. The original ordination of Moses Allen, signed by William Tennent, James Edwards, and JJ Zubly.  This is separated in the middle with some loss of text. Signatures unaffected. Staining down center.
[Moses] is hereby recommended as regular gospel Minister to the Church of Christ on Wando Neck where he has laboured for some time past and to any Church in which he may be called to labour in future time.
Moses's emotional war date farewell to Christ Church Parish and a description of the dangers facing the South during the war

Autograph letter signed, May 10, 1777, Moses to his parents. A chip at the top taking with it the dateline.
"…Having often been, & frequently preached in the Parish of St. John in Georgia, the sixth of April last they gave me an invitation to settle with them in the gospel ministry. I think I may safely say, that it was not any uneasiness in myself or people, that cased my removal. If I may Judge from human appearance, I was as greatly beloved & more highly esteemed than I could possibly deserve by every person in the congregation. But the reasons I acted upon, you may see in the following letter….
"To the Congregational Church in Christ Church Parish SoC
"…You remember that I sometime since received a call, (as I then informed you) from the People of St. John's Parish in the State of Georgia – After deliberation & frequently calling upon God for direction in so important a matter; I think it my duty & have determined to accept their invitation for the following reasons:
"1-The State of Georgia is almost entirely destitute of Gospel Preachers of every Denomination. There is also in want of new friendly to the common cause as well as of Gospel Ministers, – & therefore I have hopes of being serviceable to Church & State
"2-The People I am called to is much more numerous than this, & they can get no supply. Gentlemen at the Northward, where they must now look for a supply, are more afraid of that climate than of War, & therefore, their Prospect is more forbidding.
"3-I expect to be serviceable to the Army which is daily increasing there and stationed in the Parish to which I am invited. Several battalions are filling in the different States to settle in that, Now that they should be destitute of Gospel Preachers is of very melancholy thought, & Believe me Gentlemen, it had great influence in my determinations
"4-I do not leave you in so distressed situation They are more eminently in danger, the enemy within their borders, & therefore in more special need of the greater word both to comfort Gods People & to awaken them from the state of security – They have been a long time striving for a supply, hitherto have been disappointed, and now have no hopes but in me – On the other hand you have the greatest prospect of being easily & soon supplied – you have all the advantages of getting supplied, that any parish in the southward states can have. This is said to be the most Healthy Parish & new Metropolis – Mr. Trobly with his family enjoyed his health here for many years. Mr. Martin also with a very large family, lost not one; and as for myself, I have enjoyed my health much better than I expected. We are all known at the northward and have said that it is a healthy Parish; we have said more, – that the situation is pleasant & the people agreeable. Rvd Mr. Tennent is now in the Jersies ready to testify the same things. And there is no doubt, should you apply to him while there, that he will presume the same person you once sent a call to, if not him, most certainly he will engage some other –
"5-Moreover there is a Prospect of your having occasional supplies. But the People in Georgia can have none. Mr. Stewart, a young gentleman who has a call for Charlestown as an assistant to Mr. Tennent, I am told is now on his way for this Place. Should it be true you can have a supply from them till there New Meeting is finished. Before which, if not immediately, I hope that God will incline the heart of a faithful Minister of the Gospel of his son to settle with you.
"For these reasons I have concluded to spend one year in Georgia, should God spare my life. Let others Judge & condemn if I can appeal to my own conscience and be acquited there, I shall have peace & Joy that the world knoweth not of…"
A note on condition: the letters are fragile and some are separated at folds.  Except where noted, this does not include any major loss of text.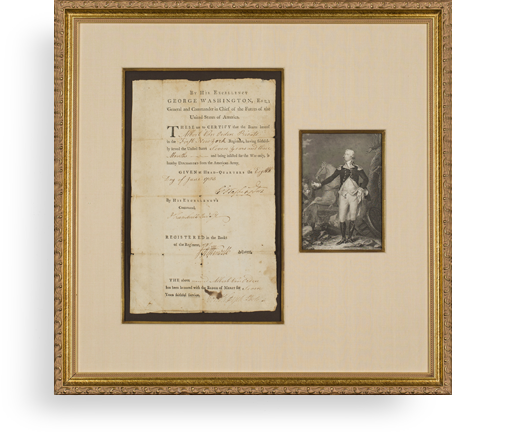 Frame, Display, Preserve
Each frame is custom constructed, using only proper museum archival materials. This includes:The finest frames, tailored to match the document you have chosen. These can period style, antiqued, gilded, wood, etc. Fabric mats, including silk and satin, as well as museum mat board with hand painted bevels. Attachment of the document to the matting to ensure its protection. This "hinging" is done according to archival standards. Protective "glass," or Tru Vue Optium Acrylic glazing, which is shatter resistant, 99% UV protective, and anti-reflective. You benefit from our decades of experience in designing and creating beautiful, compelling, and protective framed historical documents.
Learn more about our Framing Services