SOLD – THE PIVOT POINT OF ABRAHAM LINCOLN'S LEADERSHIP IN THE CIVIL WAR
Lincoln's Final Letter to General George B. McClellan, Urging Him to Advance Across the Potomac, and Asking the Location of Robert E. Lee's Confederate Forces.
When you get entirely across the river let me know. What do you know of the enemy?
One of the most consequential letters Lincoln ever wrote, newly unveiled.
When the Civil War broke out in April 1861, the greatest challenge to face President Lincoln was finding the right military leadership...
When you get entirely across the river let me know. What do you know of the enemy?
One of the most consequential letters Lincoln ever wrote, newly unveiled.

When the Civil War broke out in April 1861, the greatest challenge to face President Lincoln was finding the right military leadership to win the war. This was particularly important because Lincoln was accutely aware that he himself had no military experience and assumed he would need to place himself in the hands of the men who did. The head of the U.S. Army at the time was the elderly Winfield Scott, who was in no condition to be a field general. Scott recommended that the President offer the top post to his Mexican War staffer, Robert E. Lee, but when he did Lee declined. Instead he went with his home state, Virginia, resigned his U.S. commission, and became the storied leader of the Army of Northern Virginia. So Lincoln went with who he had in place, Gen. Irvin McDowell, and he placed McDowell at the head of a hastily assembled army largely consisting of 90-day volunteers who had enlisted after the firing on Fort Sumter. Cheers rang out in the streets of Washington on July 16, 1861 as that army, 35,000 strong, marched out to begin the much-awaited campaign to capture Richmond and end the war. But five days later, at Bull Run, Confederate forces handed McDowell and his army a startling and massive defeat. Its men fled singly and in disjointed groups (many literally running) back to Washington; and it was clear that if the Union intended to continue the war, it would need a serious army and competent leadership.
George B. McClellan was an army engineer with political connections, and he was named an official American observer of the European armies in the Crimean War in 1855. Traveling widely and interacting with the highest military commands, he observed the siege of Sevastopol. Upon his return to the U.S. in 1856, McClellan authored a critical analysis of the siege and a lengthy description of the organization of the European armies, noting their strengths and weaknesses, and also wrote a manual on cavalry tactics that was based on European cavalry regulations. He then became president of a railroad. When the Civil War broke out, McClelland was recognized as America's foremost authority on army organization, with the added bonus of having a thorough understanding of railroads and how to best utilize them.
On August 15, 1861, he was placed in command of the newly formed the Army of the Potomac. During that summer and fall, McClellan brought a high degree of organization and morale to his new army, and he will always be remembered as the great organizer of what was then the largest military unit the world had seen in modern times. But his job was not to create a great army and retain it in place, but to win the war. In the spring of 1862 he initiated an advance on Richmond by way of the Peninsula between the James and York Rivers in Virginia. Lincoln was sceptical, but he felt he needed to defer to McClellan as the military expert. Once McClellan arrived with his huge army, he became convinced that he was facing a larger Confederate force and moved slowly. His hesitancy allowed the Confederates under General Joseph E. Johnston ample time to retreat slowly toward their Richmond defenses.  Johnston's surprise attack at the battle of Seven Pines, though repulsed, led McClellan to again delay any further movement, hoping for more reinforcements to come from Washington. During Seven Pines Johnston was wounded, and Robert E. Lee was appointed to replace him.  Taking advantage of McClellan's caution, Lee hammered at the inert Army of the Potomac in a series of fierce and unrelenting assaults. McClellan was outmanouvered and his mighty host was forced to abandon its bid to seize Richmond; it retreated to the safety of Washington. This was humiliating not merely to McClellan but to the President who had entrusted leadership to him.
On the advice of his military, Lincoln then circumvented McClellan and took much of the Army of the Potomac and other units and created the Army of Virginia under Maj. Gen. John Pope, who was directed to advance towards Richmond from the northeast. After Pope was crushed at Second Bull Run in August, the President again turned to the expert who had mended a broken army before: McClellan. On September 2, 1862, Lincoln named McClellan to command the fortifications of Washington, and all the troops for the defense of the capital. Just two days later, Lee launched his Maryland Campaign, hoping to arouse pro-Southern sympathy there and to surround the capital of Washington. McClellan pursued him, and the result was the huge Battle of Antietam on September 17, 1862. Although in a military sense a draw, with colossal casualties on both sides, Antietam must be considered a strategic Union victory because it ended Lee's campaign to carry the war to the North, forced his retreat south towards the Blue Ridge, and allowed President Lincoln to issue the Emancipation Proclamation on September 22.
Moreover, President Lincoln believed that the aftermath of Antietam created an opportunity for a major Union victory. McClellan had most of his 140,000 Army of the Potomac camped near Harper's Ferry, strategically wedged between the 75,000 exhausted men of Lee's Army of Northern Virginia and Washington. This meant that McClellan was actually closer to Richmond than Lee, and Lincoln wanted to get McClellan's large army between Lee's army and the Confederate capital and, perhaps, end the war. But as McClellan stayed north of the Potomac, Lincoln set in motion his own campaign – one to get McClellan to take advantage of that opportunity.
On October 4th Lincoln journeyed out to McClellan's headquarters in Maryland to push his plan. While there he commented wryly that the army "is General McClellan's bodyguard." On October 6, the President had Gen. Henry Halleck instruct McClellan to "cross the Potomac and give battle to the enemy or drive him south." Lincoln followed with a lengthy letter on Oct 13 detailing his logic and his strategy. On the 20th, with his entire attention focused on putting McClellan's force to use, Lincoln wrote a memorandum on the Army of the Potomac showing it had a grand total of 231,997 troops of which 144,662 were fit for duty, while the Confederate Army appeared to have a total of 89,563. On October 21, Gen. Halleck confered with Lincoln about McClellan's plans and inactivity. In the meantime, McClellan stayed put, and his responses to the President and Halleck were that he needed more men and supplies, and that his horses were too fatigued to move. This led Lincoln to famously write him on October 25: "I have just read your despatch about sore tongued and fatiegued [sic] horses. Will you pardon me for asking what the horses of your army have done since the battle of Antietam that fatigue anything?" The pressure was on McClellan, even as Lincoln saw a golden opportunity to deliver a great blow to the Confederacy slipping away.
The next day – October 26, 1862 – the Army of the Potomac began crossing the Potomac River into Loudoun County, Virginia, on the east side of the Blue Ridge Mountains. Because of its size, the operation took a number of days, and while it was in process McClellan sent out scouts to determine the exact location of Lee's infantry and J.E.B. Stuart's cavalry, and whether they were on the move (and if so, towards where). President Lincoln closely monitored his army's movements, and he anxiously awaited news of both its status and the corresponding location and intentions of the Confederates. Autograph Letter Signed, on Executive Mansion letterhead, Washington, October 29, 1862, to McClellan. "Your despatches of night before last, yesterday, & last night, all received. I am much pleased with the movement of the Army. When you get entirely across the river let me know. What do you know of the enemy? A. Lincoln." This was to be Lincoln's last ever letter to McClellan, and it offered   McClellan his last chance to both save his job and potentially end the war.
McClellan responded to the President that same day: "In reply to your dispatch of this morning I have the honor to state that the accounts…of the enemy's position & movements are conflicting. A dispatch I have just recd…says…Generals Hill, Jackson & Hampton are encamped near…Ridgesville. Gen Pleasonton reports…Hill…at Upperville…Gen Porter reports last night that..R E Lee is not far distant from him & that Stuart is within an hours march…In the meantime I am pushing forward troops & supplies as rapidly as possible…"  Then, on November 1, he followed up that "all the corps of this Army have crossed the Potomac except Franklin's…," and on November 5 reported that Franklin "finished crossing the Potomac at Berlin on Monday the third inst."
Once his army was south of the Potomac River, McClellan intended to get between Lee's army and Richmond, and he planned to head for the strategic location of Culpeper in order to make this happen. However, anticipating this, Lee made two moves to counteract the plan: he sent Stuart's cavalry to harass and delay the Union forces (as McClellan had written Lincoln, Stuart was just an hour away), and on October 31 he dispatched Longstreet to take advantage of that time and beat McClellan to Culpeper. It was not until November 5 that McClellan's army was in position to move on Culpeper, but by then it was too late. On November 3, Longstreetâ's command had arrived in Culpeper to block Union movement south, thus defeating Lincoln's plan without even a battle. This was perceived as a failure at the time, the New York Times correspondent reporting "Stuart…baulked what might have been a splendid success."
This was the last straw for Lincoln, who now came into his own. He realized that his strategic sense was better than that of his military experts, and that he himself must exert leadership in military matters rather than defer to his generals. On November 5, he signed an order relieving McClellan of his command and replacing him with General Ambrose Burnside. When Burnside, and his successors Joseph Hooker and George Meade proved unable to fill the role he had in mind, Lincoln kept looking until 1864 when he found the right general to defeat Lee and bring victory: Ulysses S. Grant. Thus did Lincoln's perception of his role change, a change that in the end determined the outcome of the Civil War.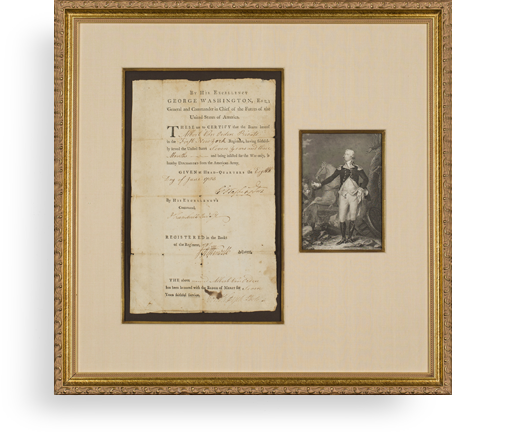 Frame, Display, Preserve
Each frame is custom constructed, using only proper museum archival materials. This includes:The finest frames, tailored to match the document you have chosen. These can period style, antiqued, gilded, wood, etc. Fabric mats, including silk and satin, as well as museum mat board with hand painted bevels. Attachment of the document to the matting to ensure its protection. This "hinging" is done according to archival standards. Protective "glass," or Tru Vue Optium Acrylic glazing, which is shatter resistant, 99% UV protective, and anti-reflective. You benefit from our decades of experience in designing and creating beautiful, compelling, and protective framed historical documents.
Learn more about our Framing Services