Rare Abraham Lincoln Signed Mathew Brady CDV: Provenance the Lincoln Descendants
One of only a handful of signed Brady images to reach the market in decades and no others with this provenance
Lincoln's favorite image of himself: A unique and moving Lincoln family memento of the 16th president
This CDV ( 2 1/2 by 4 inch carte-de-visite) of President Lincoln was produced from a negative originally taken by Mathew Brady at the Brady studio on Friday January 8, 1864. It is signed "A Lincoln"...
Lincoln's favorite image of himself: A unique and moving Lincoln family memento of the 16th president
This CDV ( 2 1/2 by 4 inch carte-de-visite) of President Lincoln was produced from a negative originally taken by Mathew Brady at the Brady studio on Friday January 8, 1864. It is signed "A Lincoln" along the bottom edge, with Brady's studio imprint appearing on the verso. Lincoln said of this particular portrait: "I have thought that if I looked like any of the likenesses of me that have been taken, I look most like that one."
This CDV was brought to the market by the heir of Margaret Fristoe Beckwith, wife and heir of Robert Todd Lincoln Beckwith. Beckwith was the great-grandson of President Lincoln, and the last of Lincoln's direct descendants. Beckwith's mother, Jessie, was one of two daughters of Robert Todd Lincoln and his wife Mary Harlan Lincoln. Robert was the only surviving son of Mary and Abraham Lincoln's four children.
Robert Todd Lincoln and Mary Harlan Lincoln had three children: Mary ("Mamie"), Abraham II ("Jack"), who died at age 16 of blood poisoning, and Jessie. Mamie married Charles Isham and had one son, Lincoln Isham who never married, and left most of his historic possessions to the Library of Congress. Jessie married Warren Wallace Beckwith in 1897. The couple had a daughter, Mary ("Peggy") Lincoln Beckwith, and a son, Robert Todd Lincoln Beckwith. Mary never married and died childless. She spent much of her later life as a recluse at Hildene. Her death left Robert ("Bud" or "Bob") Todd Lincoln Beckwith as the last surviving direct descendant of the 16th President of the United States. He married three times. His first marriage to Hazel Holland Wilson ended without issue; his second marriage to Annemarie Hoffman ended in divorce in 1976 when she was discovered to be pregnant – but not by Bud Beckwith. Beckwith married again in 1979, this time to divorcee Margaret Fristoe. In his final illness, Beckwith was nursed by Margaret's daughter, Lenora.
Beckwith made donations of a portion of the Lincoln family materials to a number of institutions, including the Illinois State Library (now the Abraham Lincoln Presidential Library), the Chicago Historical Society (now the Chicago History Center), the New York Historical Society, and others. But he retained some. At Bud Beckwith's death in 1985 this CDV, which he had retained, passed to Margaret, and at her death in 2009 it was brought to the market by her heir along with the other items Margaret had received from him. There were no other Lincoln signed photographs in that group. This one was obtained then by one of our clients, and now has been acquired by the Raab Collection. The purchaser from us will be just the second private collector ever to own this treasure of the Lincoln family, one we are proud to offer here.
Signed photographs of Lincoln are quite uncommon, with a search of public sale records going back a decade revealing less than half a dozen having reached the public sale market in that time period. Of these, a few are specified as photographs of Alexander Gardner, while the others are mute on the subject.  This is one of only a handful of signed Brady images to reach the market in decades. More importantly, none, in the public sale records or otherwise, have as provenance the Lincoln family itself, making this not merely a rarity but likely unique.
Family lineage:
Abraham (1809-1865) and Mary Todd Lincoln (1818-1882)
Robert Todd Lincoln (1843-1926) married Mary E. Harlan (1846-1937)
Jessie Lincoln (1875-1948) married Warren Wallace Beckwith
Margaret (Peggy) Beckwith (1898-1975)
Robert Todd Lincoln Beckwith (1904-1985)
Margaret Fristoe Beckwith (1921-2009)
By descent to her direct heir, who sold it with other Lincoln-descended items in 2010
The Raab Collection, via the purchaser, 2017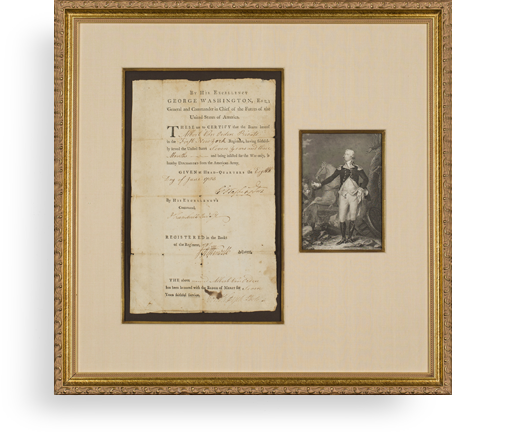 Frame, Display, Preserve
Each frame is custom constructed, using only proper museum archival materials. This includes:The finest frames, tailored to match the document you have chosen. These can period style, antiqued, gilded, wood, etc. Fabric mats, including silk and satin, as well as museum mat board with hand painted bevels. Attachment of the document to the matting to ensure its protection. This "hinging" is done according to archival standards. Protective "glass," or Tru Vue Optium Acrylic glazing, which is shatter resistant, 99% UV protective, and anti-reflective. You benefit from our decades of experience in designing and creating beautiful, compelling, and protective framed historical documents.
Learn more about our Framing Services